Half a century ago, Elvis Presley was one of the brightest stars in the pop music world. Another star was John Lennon who was 'more popular than Jesus.' Finally, The Buggles' 'Video Killed the Radio Star' became the first ever shown on MTV in the US. For half a century, everything changed in this world. There are tons of video clips that make many people press the Pause button even at the very beginning of the clip. On the contrary, there are many singers that have outrun the mentioned pop kings. Probably, the current technologies and gadgets have their big impact on this.
We learn new information about the celebrities every single day. Plus, there are various audio gadgets that help us listen to whatever we want and whenever we want. But nostalgia is interesting. So retro products or retro-style products have more chances to grab customers' attention. The Xiaomi Elvis Presley Atomic Player B612 is one of them. It's a Bluetooth speaker mixed with vinyl elements such as a vinyl record player, radio, etc. At the same time, the wilderness green colouring, which was unique in the last century, awaken hidden memories.
The front of speaker has a fuselage that is compactly distributed with the FM lever, the switch lever, the volume adjustment knob, the speaker with the shape of the vinyl disc and the indicator light. It looks like a phonograph from any angle.
The wilderness green that was widely used in home appliances such as refrigerators and freezers in the last century has also become the main colour of the Atomic Player B612. This is the unique taste of the era that we have never experienced before, and it is retro and nostalgic.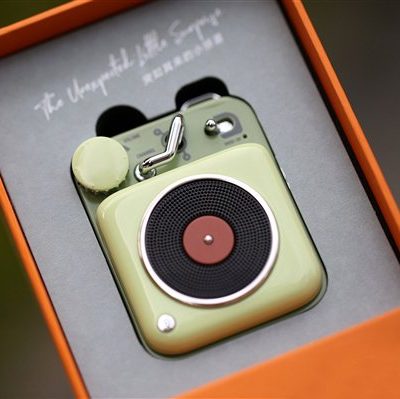 The Bluetooth speaker isn't just riding on the back of Elvis but stands out to its mightly impressive output despite the compact size. The player measures 63 x 47 x 30mm and weighs 130g. The Atomic Player is made of a zinc-aluminum alloy with a retro-green finish and some silver-coloured parts. It gets its power from a 400mAh built-in battery juice which is said to last up to 7 hours on a single charge and charges via a MicroUSB port.